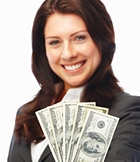 Turn Future Credit Card Sales into Cash!
Need quick cash for your business? Our Cash Advance Program can help. Faster than a small business loan, if you need a rapid infusion of cash, our cash advance program is a simple, effective solution for your business.
Pay off other business debt
Purchase new equipment
Acquire seasonal/supplemental merchandise
Launch advertising and marketing campaigns
Renovate or expand your facility
Get the funds you need to expand your business without the time and headaches of a traditional bank loan. After you receive your funds we simply deduct a predetermined percentage from your daily Visa/MasterCard sales until the agreed amount is paid back – it's that simple!
Even more benefits:
Funds directly deposited in just 7-10 business days!
No hidden fees
Does not appear on your personal credit
Repayment determined by your processing volume – during slow periods, your payments are reduced
No penalties for extended payback period
No personal guarantee required
No collateral required
Easy application
Are you ready to invest in the future of your business? Click here to begin the
qualification process!