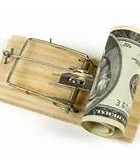 Chargeback and Fraud Prevention Tips
What is a Chargeback?
When a credit card transaction is disputed by either your customer or by a customer's credit card Issuer, you may receive a chargeback. If a chargeback occurs, the amount of the original sale will be deducted from the checking account on file with your Merchant account.
Common Reasons for Chargebacks
The cardholder disputes taking part in a transaction, the quality or the receipt of merchandise or services

The cardholder claims to not have received the purchased merchandise or services

The amount charged to the card was incorrect

Proper authorization was not obtained

The card was stolen or used without the owner's knowledge

Processing errors, such as an incorrect calculation on the sales draft, an invalid account number being entered, or an expired card being accepted, were made during the transaction

A retrieval request for supporting information was not sent within the requested time frame




Chargeback Prevention


While chargebacks are not entirely avoidable, there are some steps you can take to help prevent them.




In General




Make sure the business name that appears on the cardholder's statement is a name that your customer will recognize

Promptly respond to all retrieval requests within 12 days

Provide a local or 800 number on invoices and receipts for customers to contact you directly with purchase questions and concerns

When a customer is due a credit and the original sale was made on a card, process the credit back to the original card number – do not refund by cash or check. If credit is due on more than one sale, process each credit individually


Tips for Face–to-Face Transactions




Have proof the card was present by swiping it through your terminal

Avoid taking credit card numbers over the phone. Encourage customers to come in to the store and swipe their credit card

Always check the identification of the cardholder - do not accept a borrowed card

Never accept an expired card

Compare the signature on the sales receipt to the signature on the back of the customer's card and driver's license

If a card is declined, do not attempt to repeat the transaction for a lesser amount. Instead, request a new form of payment from the cardholder

Never accept an authorization number from your customer to input into your terminal

Never accept a phone call on your customer's phone – always call the Customer Service phone number on your credit card processing statement (949-861-4000)

Get an imprint of the card when it has to be manually keyed into a terminal, as well as all other transaction information such as the sale amount, the business name and location, and the customer's signature

Verify that the number on the screen matches the embossed number on the card

Obtain an authorization number for the full amount of the sale – do not break the sale into smaller amounts

Always obtain authorization for the exact amount of the transaction processed to the card

Have your return policy pre-printed on the credit card sales draft and signed by the cardholder at the time of purchase. The policy must be close to the signature to be recognized by Visa or MasterCard




Tips for Non-Face-to-Face Transactions




Obtain a signed credit card authorization form from customers

Obtain customers' full billing information such as the name of cardholder, billing address, and billing phone number

When prompted, enter the cardholders address or zip code, this is known as Address Verification Services (AVS)


Enter the three or four digit code on the back of the card

Be extra careful with orders that come from free email services (Yahoo, Hotmail, Gmail), especially if you do not have a prior business relationship with the customer

Use caution when orders come from overseas or ship to overseas

Be extra careful with larger than typical orders and next day deliveries

Always validate when an order has different billing and shipping addresses

Avoid shipping to post office boxes and other non-permanent addresses

Document clear return policies and terms and conditions on your website or invoice

Use shipping that is able to provide proof of delivery to the billing address should there be a dispute

When shipping high price items, request a signature for the merchandise to be released to the buyer




Suspicious Activity



If you are concerned about a possible fraudulent transaction, call in a Code 10 and obtain an authorization. A Code 10 call is a simple way for you to contact the authorization center and alert them of suspicious activity.



Call in a Code 10 to Obtain Authorization for the Following:




Any card that does not have the appropriate hologram

Signature on card does not match with signature on ID card


Card does not have an expiration date

Cards that have an incorrect starting digit

American Express cards start with 3

Visa cards start with 4

MasterCard cards start with 5

Discover cards start with 6

Any other messages displayed such as Card Not Accepted, Call, Call Center, Referrals, Pick Up, or No Match

First time customers who seem distracted, tense, and/or rushing the purchase





Code 10 Call Procedures





Call the Code 10 Authorization phone number and ask for Code 10 Authorization. Call the voice authorization phone number provided in your Merchant welcome kit.

A Code 10 representative will ask you a series of questions that can be answered with a simple Yes or No. Do not say anything that may alarm the customer

Follow all instructions from the Code 10 representative

If the Code 10 representative instructs you to pick up the card, only do so if it is possible and you feel safe. Never take unnecessary risks

If you do not feel comfortable making a Code 10 call while customer is present, make the Code 10 call after customer leaves





For additional Information, visit these sites: