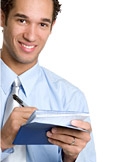 More Approvals, More Sales!
Tired of chasing down bad checks, the stress of not knowing whether the funds will be available, and the inconvenience of going to the bank? Welcome to our Check Guarantee Service – we can help!
There has been a fivefold increase in the Google search term "how to write a check" over the last decade, according to an April article in The Washington Post. The Fed also reports that over 18 billion checks are written per year, which is proof they still have a place in this world… Roughly 75 percent of people ages 55 and up... still go the paper route.1
Highest approval rates in the industry
Electronic deposits into your business account
No more going to the bank
Put chasing down bad checks behind you
Once a check is approved, the funds are guaranteed!
Give your customers more ways to pay - give yourself well-deserved peace of mind.
Standard Guarantee
Multiple Check Option - use this tool to support deferred payments – guarantee up to four checks at a time for a single customer
Business to Business - approval on business checks (signer need not be present)
Electronic Guarantee
Convenient - no more trips to the bank
Easy – simply swipe the check through the reader or imager
Advanced – the most secure, state-of-the-art way to accept checks
Contact a New Account Advisor to learn more at (800) 660-7153
1 http://money.usnews.com/money/blogs/my-money/2015/06/11/why-no-one-knows-how-to-write-a-check-anymore