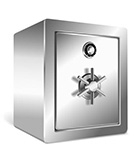 Merchant Services has partnered with a number of data security companies to develop an enhanced and comprehensive Data Protection Program for your business. Protecting card holder data is critical to us, so we've created a user-friendly, low-cost program that not only assists you with your annual audit responsibilities and provides a step-by-step explanation of the compliance and reporting process, but also provides you with breach coverage of up to $100,000.



Why Comply with PCI Security Standards?
Why should you, as a merchant, comply with the PCI Data Security Standards (PCI DSS)? At first glance, especially if you are a smaller organization, it may seem like a lot of effort, not to mention confusing. But compliance is critical to the protection of your business – and our system is simple, intuitive, and designed to help every size business become compliant and ensure protection with minimal effort – it may not be the headache you expected.


Compliance with data security standards will bring major benefits to businesses of all sizes, while failure to comply can have serious and long-term negative consequences for your business. Here are some reasons why.
Compliance with the PCI DSS means that your systems are secure, and customers can trust you with their sensitive payment card information:

Trust means your customers have confidence in doing business with you
Confident customers are more likely to be repeat customers, and to recommend you to others
Compliance improves your reputation with acquirers and payment brands -- the partners you need in order to accept electronic payments

Compliance has indirect benefits as well:

Through your efforts to comply with PCI Data Security Standards, you'll be better prepared to comply with other mandatory regulations as they come along, such as HIPAA (protection of health records/data), SOX (determines which records are to be stored and for how long), etc.
You'll have a foundation for a corporate security strategy
You will likely identify ways to improve the efficiency of your IT infrastructure
But if you are

not compliant, it could be disastrous:

A breach requires you to replace the compromised cards of your customers – at your expense
Compromised credit card numbers often result in fraudulent changes to your customers accounts
Compromised data negatively affects consumers, merchants, and financial institutions
Just one incident can severely damage your reputation and your ability to conduct business effectively, far into the future
Account data breaches can lead to catastrophic loss of sales, relationships and standing in your community, and can even depress the share price of a publicly traded company
Negative consequences also include:

Lawsuits
Insurance claims
Cancelled accounts/lost customers
Payment card issuer fines
Government fines
April 2011 – Sony – "Sony PlayStation suffers massive data breach"
Read More
You've worked hard to build your business – make sure you safeguard your success by securing your customers' payment card data. Your customers depend on you to keep their information safe – repay their trust with compliance with the PCI Security Standards.
PCI Toolkit®



The PCI Toolkit® is an interactive, online system that intuitively guides you through the complete PCI DSS audit process compliance quickly and accurately. The program performs a Self-Assessment Questionnaire (SAQ) that all businesses are required to complete annually, to identify the needs specific to your business. This is one of the easiest, most user-friendly programs available on the market today.

Click here

to learn more.
Data Breach Coverage



The Data Breach Coverage program protects each merchant account for up to $100,000 of the costs associated with suspected or actual data breach. In 2009, 143 million personal records were compromised by data beach—and that number is expected to grow in the future. Our program covers audit and card replacement costs as well as state, federal and card brand fines.

Click here

to learn more.
Breach Reporting Toolkit

™

Federal, State Regulatory agencies require reporting of a breach or suspected data breach of Personally Identifiable Information (PII) within 72 hours. Our comprehensive Breach Reporting

™

answers the critical business need for swift and thorough response to data loss, better known as identity theft. Identity theft is the number one concern among consumers in the United States. For businesses, such a threat may lead to business reputation loss, civil fine or criminal prosecution.

Click here

to learn more.