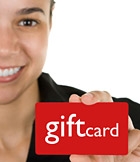 The Perfect Gift, the Perfect Size – Every Time!
Did you know 72% of consumers will spend more than the value of their gift card – on average 20% more?1
In fact, 94% of people state that they would be likely to purchase a gift card in the next year.2 Which matches with the statistic that 93% of U.S. consumers purchase or receive a gift card annually.3
It is projected that total gift card volume will reach $160 billion by 2018.4
Why not let your customers enjoy the convenience while you reap the benefits:
Generate more revenue for your business: consumers spend on average $23 more than the original value of the gift card they receive and they will spend it at your business.
Drive foot traffic: consumers with gift cards go back to the business 3+ times to spend.
Acquire new customers: use gift cards as promotions to drive awareness of your business.5
Gift Cards are an excellent source of upfront revenue and can be used in a variety of creative ways to benefit Merchants and Customers.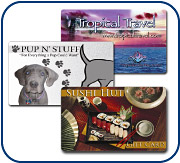 Merchandising – use countertop displays and other marketing materials to prominently feature Gift Cards in your store and encourage last minute/impulse purchases.
Marketing – Gift Cards are like a billboard in your customer's wallet so why not collaborate with your vendors and sell it like one? A clothing retailer could sell card-front ad space to a new designer they are featuring, a pet shop could feature a particular dog food, or a salon could feature their newest styling products. Additional sponsorship revenue for your business!
Fundraising – partner with local charitable organizations or schools by providing pre-loaded cards they can sell for their next fundraising drive. The consumer will buy the card to support the charity and becomes a potential new customer for you!
Returns – provide Gift Cards as payment for returns. This keeps revenue in your business and encourages customers to return to your store and spend more than the value of the cards.
Promotions – Gift Cards are a great way to reward loyal customers, drive revenue and increase traffic flow. "For every $200 you spend, you'll receive a $50 Gift Card for future purchases" - this kind of program rewards your customers and brings them back again and again.
Gift Cards can be a key ingredient in increasing your business:
Visibility - Gift Cards serve as a billboard in your customer's wallet
Upfront Revenue - Gift Cards are prepaid – keep unused balances
Higher Transactions - Card holders often spend more than the card's value
New Customers - Gift cards are typically given as gifts, driving new customers and clients to your business
No Cash Back Option - Use Gift Cards to process merchandise returns rather than giving cash back
Enhanced Fraud Security – Gift Cards are better than paper with no value until your staff activates the card at the time of purchase
Pre-Designed Cards
Dozens of templates to choose from, just add your business name
Marketing kits available
A cost-effective way to get started today
Ready in as little as 7 business days
Custom-Design Cards
Enhance branding by using your own logo and image
Marketing kits available
Great branding with just the right feel for your business!
Ready in as little as 10-15 business days
Contact one of our New Account Advisors to learn more at (800) 660-7153
1 https://www.cardcash.com/gift-card-statistics/
2 http://www.pymnts.com/news/2015/inside-the-motives-of-a-gift-card-buyer-why-the-industry-continues-to-boom/
3 http://www.giftcards.com/gift-card-statistics
2 http://www.firstdata.com/giftcards/
3 https://news.cebglobal.com/2015-12-08-2015-Gift-Card-Sales-To-Reach-New-Peak-Of-130-Billion