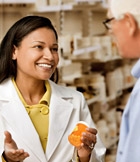 Flexible Spending, Health Reimbursement and Health Savings Accounts have become a popular way for consumers to manager their healthcare expenses.
We can help you get started and ensure your systems are an approved IIAS (Inventory Information Approval System) according to SIGIS (the Special Interest Group for IIAS) Standards.
The IRS has published updated Flexible Spending Account (FSA) and Healthcare Reimbursement Account (HRA) card guidelines (IRS Notice 2006-69). As of January 1, 2008, if you are a non-medical / non-pharmacy merchant you are required to use an Inventory Information Approval System (IIAS) if you wish to accept FSA/HRA cards.
An IIAS will allow you to identify the qualified medical items being purchased by the consumer at the point of sale (POS) and in real time. Contact one of our New Account Advisors to learn more at (800) 660-7153.
Additional information is available at www.visa.com or www.sig-is.org