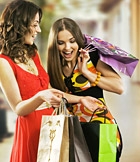 Rewarding your loyal customers builds a solid customer base and encourages return visits. Our Loyalty Programs can help ensure you are maximizing your business opportunities.
Loyalty Programs are structured marketing efforts that reward, and therefore encourage, loyal buying behavior. A loyalty card is similar to a plastic Gift Card and identifies the card holder as a member in a loyalty program, allowing them access to discounts or accrual of points toward future discounted purchases.
58% of customers buy from the stores and brands whose loyalty programs they belong to at least once a month1
Engaged customers buy 90% more frequently, spend 60% more per transaction, and are five times more likely to indicate it is the only brand they would purchase in the future.2
Gift and Loyalty Cards can be combined onto one card for added convenience
Loyalty Cards allow you to track consumer purchasing behavior for future
marketing programs
Loyalty Programs help Merchants reward their customers, increase revenue and create lasting relationships with repeat shoppers.
Contact one of our New Account Advisors to learn more at (800) 660-7153
1 http://citygro.com/mind-blowing-loyalty-and-marketing-stats/
2 http://blog.accessdevelopment.com/customer-loyalty-statistics-2015-edition