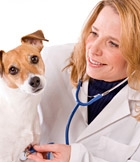 Caring for people's pets is your top priority so we make it simple and easy to lower costs and increase efficiency and profitability so you can focus on the health and well-being of your patients.
Virtual Terminal– Turn your desktop computer into a credit card processing system! Save space and time with integrated systems that manage your transactions, control your inventory, export to your accounting software, and auto-bill your customers. Click here to learn more.
Internet Sales– We can help you evolve your website into an online platform to sell your products. With state-of-the-art security and our high speed networks, giving customers access to products and services such as pet supplies, medications, leashes and toys has never been easier! Click here to learn more.
Don't Have a Website? Let us help you to expand your market! Our web design partnerships can create customized web systems to effectively market your products, capture orders, and establish your reputation in the online community. Contact our Customer Support Team today for help with getting started.
Recurring Billing – Offer your customers more flexible payment options with our online recurring billing systems. They're secure, automated, and easy to use – minimizing the time you spend billing, and ensuring on-time payment of bills. To learn more about the benefits click here.
Cash Advance– Need access to quick working capital? Looking to expand your business? Our Cash Advance Program will help pave the way. Whether adding additional staff, setting up a website, or upgrading equipment our cash advance gives you the funds you need to help your business grow. Funding is available within 7-10 business days. Click here to start the qualification process.
Check Service – The Fed reports that over 18 billion checks are written per year, and roughly 75 percent of people ages 55 and up still go the paper route.1 Let us take the hassle out of check acceptance with our Check Guarantee Service. Allow us to expand your payment options while protecting your business from bad checks. No more trips to the bank; no more hassles with collections. Click here to learn more.
Care Credit – Continue accepting Care Credit with lower Visa/MasterCard/Discover rates. Contact a Merchant Services New Account Advisor to learn more (800) 660-7153
Debit – Getting set up on the correct processing system to accept debit cards can provide you with exceptional savings. Click here to learn more.
Equipment – We integrate office wide secure payment systems for all of your processing needs. From counter top terminals to full touch screen POS systems, we have a system to fit your business needs. Click here to see our full line of Equipment or contact a Merchant Services New Account Advisor to find out which system would be best for your business (800) 660-7153
Gift Cards – Did you know 72% of consumers will spend more than the value of their gift card – on average 20% more?2 In fact, 94% of people state that they would be likely to purchase a gift card in the next year.3 Gift Cards are an incredible revenue generator, click here to learn how they can increase your business.
Wireless – Why limit transactions and payments to your office – our wireless systems can follow you anywhere. Whether you make house calls, attend trade shows or conferences, or are heading for the Westminster Kennel Club Show – we'll make you mobile! Click here to find out more.
1 http://money.usnews.com/money/blogs/my-money/2015/06/11/why-no-one-knows-how-to-write-a-check-anymore
2 https://www.cardcash.com/gift-card-statistics/
3 http://www.pymnts.com/news/2015/inside-the-motives-of-a-gift-card-buyer-why-the-industry-continues-to-boom/