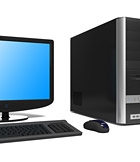 We offer PC-based credit and purchasing card processing solutions that are cost-effective alternatives to traditional POS equipment.
Turn any Internet-connected PC into a POS device – all without installing additional software!
Our programs work with your existing PC. Just log in to our secure site to start accepting payments and processing transactions from almost anywhere.
Easy-to-use Internet-based payment processing solution that doesn't require new software—just log in to the site to begin processing transactions
Multiple users – no limit
Eliminate software installations, upgrades and system maintenance
Accept credit and debit cards right away
Securely handles cardholder data - not on the individual PC - so you don't need to worry about data storage
Simple interface requires minimal training
Pin-Bases Debit options also available
Contact one of our New Account Advisors to learn more at (800) 660-7153